Photodynamic diagnosis and therapy of acne and some skin tumors
Farmavita.Net member, Laboratory for Laser and Atomic Research, has developed new medical devices and protocols for photodynamic therapy of acne and some types of skin tumors.
Laboratory is having extensive resources and established expertise in laser technology. They are looking for out-licensing, collaborative research and contract research opportunities.
Have you read the April 2006 edition of the Medical Laser Report?  The sales of the top twenty medical laser manufacturers has seen nearly a doubling since 2002, approaching $2 billion dollars in sales for these major manufacturers.  More importantly, 2006 is projected to be the largest increase yet, with at a whopping 21% growth rate. The biggest surge in medical laser sales is coming from the aesthetic laser sector with some individual companies seeing as much as a 30% projected increase in sales over 2005.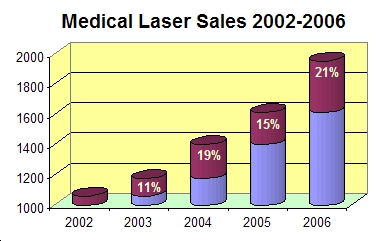 Aesthetic laser devices have been successfully used in:
-          permanent body hair removal
-          tattoo removal
-          acne treatment
-          scars removal
-          wrinkle smoothing – photo collagen rejuvenation
-          capillaries and veins removal
Laboratory is having dedicated team of experts, with long and successful R&D history. Expertise and know-how is evident from number of scientific references and patents related to use of laser technology.
Laboratory is having established resources for research, design and prototyping, but do not have manufacturing facility. Laboratory is looking for business partners for:
-          Licensing/manufacture/distribution of available medicinal devices (Please read the Laser MD.pdf file attached)
-          Contract or collaborative R&D of new medicinal laser devices
-          Collaborative clinical trials
The main advantage of Laboratory is favorable "value for money" offer in comparison to similar US or EU companies. Are you looking for new products? Are you looking for faster sales growth? Or you are looking for better profit margins? Take a look into laser sales! Offered technology is unique opportunity in dermatology. Please, contact us immediately; because resources of Laboratory are limited.