Interview with the Winner of the 1st ever Central Eastern European (CEE) Pharmaceutical Manufacturing Excellence Award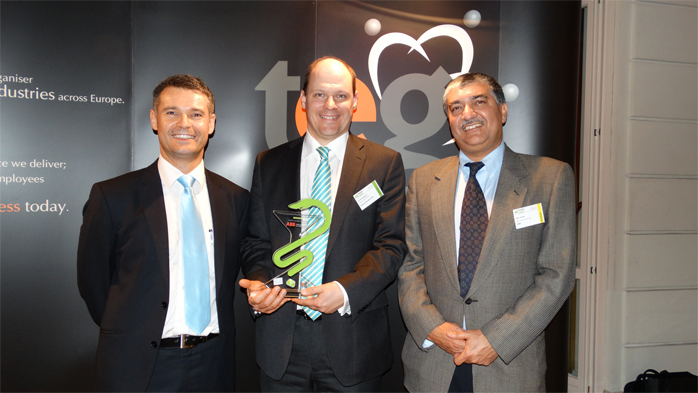 ABB together with its customer Gedeon Richter won the 1st ever CEE Pharmaceutical Manufacturing Excellence Award in the solution provider category at PHARM Connect - the market leading pharmaceutical and biotechnology manufacturing business summit for CEE.
On the picture (from left): József Ferenczi, Local Division Manager Process Automation, ABB;
Dr. Erik Bogsch, Head of Biotechnology R&D Division, Gedeon Richter;
Rajiv Varma, PACT Service Operations Manager, ABB

To learn more about the award winning project, TEG the organiser of PHARM Connect interviewed Istvan Pasztor, Cluster Segment Manager and Bence Tóth, Project Manager at ABB.
Bence Tóth responsible for the project has been working at ABB for 15 years. He graduated as Chemical Engineer at the Technical University of Budapest as Specialist of Chemical Process Engineering and Automation, and has more than 10 years' experience on designing and executing batch process control projects in the pharmaceutical industry. He is a member of the ABB Batch Reference Group which helps the ABB 800xA Batch system development based on their project experiences.
TEG: Which solutions and improvements did you introduce for Gedeon Richter?
ABB: ABB introduced a fully automated, integrated and validated production, building management and environmental monitoring system for a multipurpose and flexible batch manufacturing green field facility for mammalian cell fermentation based biological pharmaceutical production.
TEG: How did this contribute to your client's success?
ABB: Process Automation is an essential requirement for a modern biotechnology manufacturing facility to ensure microbiological and environmental safety, an effective PAS and EMS system are key enablers in achieving that goal. PAS system allows necessary integration of technology steps, drives effectiveness and efficiency, allows required remote control of the process technology, it is a key element that makes the GR Debrecen biotechnology plant a 'world class' facility.
TEG: What was the innovation within your project which made you win the 1st CEE Pharmaceutical Manufacturing Excellence Award?
ABB: The innovation within the project was an effective PAS and EMS system.
TEG: How do you think the recognition is helping you to raise your brand awareness further?
ABB: It helps to build good reputation in the pharma and biotech automation market.
TEG: In your opinion, how is the award supporting the developments of manufacturing excellence solutions in the CEE region?
ABB: It can help in convincing decision makers to invest into modern technology.
TEG: From your perspective, which are the biggest challenges the pharmaceutical industry is facing nowadays in the CEE region?
ABB: Time to market, which means the time period from starting the R&D phase until the commercialisation of the medicine itself. The length of commercialisation can vary on a long scale, and has a significant bottom line impact.
Another big challenge is the tough competition in the market and the low margins, especially in the field of generic drugs due to systematic public procurement procedures by national health authorities, the black market, low-cost producers e.g. from Asia and on-line shopping. At that respect ABB could help through innovative process automation solutions and fast delivery.
Innovation and new medicines are the key for growth and survival, especially biotech is taking over, by 2020 two third of the new drugs are foreseen to come from biotech processes.
TEG: How are you supporting your clients to overcome them?
ABB: With an international ABB Team of competent engineers and creative experts.
TEG: Are you planning to apply for the award again in the future during PHARM Connect?
ABB: Yes, certainly, it was a great honour to receive this award.
ABB company profile: ABB (www.abb.com ) is a leader in power and automation technologies that enable utility, industry, and transport and infrastructure customers to improve their performance while lowering environmental impact. The ABB Group of companies operates in roughly 100 countries and employs about 140,000 people. As one of the world's largest suppliers of solutions and services to the Life Sciences industry, ABB knows what it takes to speed up the time to market for your products. Specialised in Biotechnology, Primary and Secondary manufacturing, our job is to help you increase productivity and profitability while enhancing product quality, maintaining safety and protecting the environment. ABB is your validation and compliance partner, and transforms regulatory challenges into compliance success.
If you think your solution is cutting-edge and should be recognised by the industry, apply now for the 2nd CEE Pharmaceutical Manufacturing Excellence Award and put your business in the spotlight at the 6th PHARM Connect Congress which will take place again at 5* Corinthia Hotel in Budapest, Hungary on 24-25 February 2016.
About PHARM Connect www.pharmconnect.eu
PHARM Connect Congress is the largest and most important pharmaceutical and biotechnology business summit in the CEE region, taking place annually in February, in Budapest, Hungary.
Since the event's launch in 2011, the number of participants has reached more than 400 from over 20 countries in the region and beyond. Over the two days of the congress leading service providers of the pharmaceutical and biotechnology sector have the opportunity to meet the key decision makers of their targeted companies. PHARM Connects Programme Advisory Committee guarantees that the conference programme gives the most up-to-date market insights and the congress offers exclusivity, pre-scheduled business meetings and superb networking opportunities.
About TEG www.tegevents.eu
TEG The Events Group is one of Europe's leading business information providers, operating primarily within the key emerging markets of Central and Eastern Europe. The main focus is on business-to-business congresses that connect top professionals within various industries in the region, bringing together senior-level executives from Europe's largest organisations with leading service providers. TEG's client base includes international and top Fortune 500 companies that are all leaders within their key market sectors. Strictly operating on an invitation-only basis guarantees that the highest level of delegation is present on all events. The unique format of our congresses and their role in establishing new collaborations in the region has helped us to obtain a market leading position and to become one of the top 10 fastest growing companies within Hungary. Our congresses are recognised and supported by all major associations and have extensive media coverage throughout Europe.
More details at; http://pharmconnect.eu/#tab=pharm_connect